3 Great Christmas Food Dinner Ideas For Christmas 2020
Don't know what to cook for your dinner sides Christmas. 3 Great Christmas Food Dinner Ideas For Christmas 2020. These are tasty Christmas dinner ideas!
A Christmas dinner should be indulging, easy to make, and at the same time comfortable to digest as well.
We have come up with a list of the top best must-try Christmas dinner menus this year.
Our reviewed dinner recipes are easy to make and are perfect for an entire family. Meaning; kids will also love it.
3 Great Christmas Food Dinner Ideas For Christmas 2020
1 ~ White Meat List
Pork chops
No one can resist juicy pork chops serving on a Christmas day. Our pork chops recipe is succulent and straightforward since up need to add a few natural ingredients and slow cook it to attain that juiciness and tenderness. 
Ingredients
8 1-inch cut thick pork chops (the number depends on your servings)
3 tablespoon extra-virgin oil
1 ½ teaspoon of Kosher salt
2 teaspoons of ground pepper to taste
A handful of rosemary finely chopped
Method
Allow the chop to dry completely first
Season both sides with salt, rosemary, pepper and rub 1 tablespoon of oil
Heat your skillet under medium heat
Then add two tablespoons of extra virgin oil to heat up
Arrange the pork chops on the skillet and make sure they are not crowded.
Allow them to cook on that side for 5 to 6 minutes
Then flip on the other side the same 
Reduce the heat to around 140 degrees F ( check with the cooking thermometer), cover your skillet, and allow the chops to cook slowly for about 10 minutes
Ones fully cooked, turn off the heat and allow the pork chops to settle so they can soak in the juice on the pan
Serve with your accompaniment
2 ~ Beef List
Instant Beef Pot Roast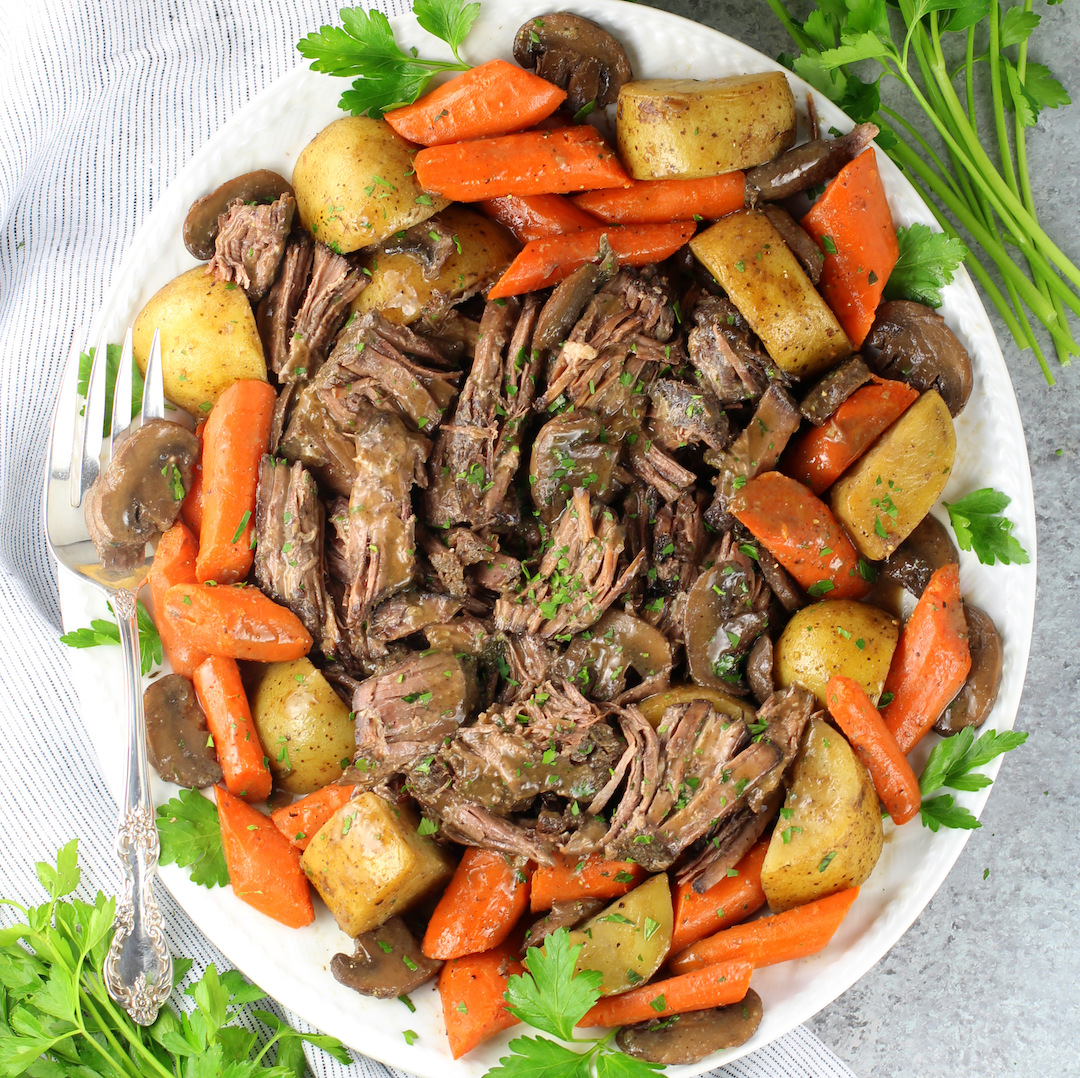 Who said a roast has only to be done in a skillet or an oven? 
Our selection of a beef pot roast is slowly cooked to a tender texture so everyone, including your babies, can enjoy it. 
Cooking this recipe takes less than an hour to complete.
Ingredients 
3 pounds chuck roast 
1 large onion, chopped
3 cloves garlic crushed
2 teaspoons chopped rosemary
1 teaspoon chopped thyme 
Kosher salt to season
Freshly ground black pepper
1 tablespoon extra-virgin olive oil
3 tablespoons tomato paste 
2 tablespoons all-purpose flour
1/2 cup of red wine
3 cup low-sodium beef broth 
1 tablespoon Worcestershire sauce
1 cup baby potatoes, halved
4 medium carrots, peeled and sliced
Method
Season the meat with salt and pepper
Get your instant pot, and adjust it to sauté settings
Leave it to heat up for 15 minutes, then add oil 
Once the oil heats up, add your beef chunks and cook on all sides until brown on both sides
Remove the beef and add your chopped onion to the pot,
Cook as you stir until cooked, and stir in the garlic, herbs, the tomatoes paste and cook for about 5 minutes
Add the flour and wine as you whisk until everything combines well
Boil everything for2 minutes until thick
Add your broth plus the Worcestershire sauce, potatoes, carrots, salt, and ground pepper to season
Stir and then place the beef chunks on top; lock the lid of the instant pot to allow everything to cook for about 1 hour
Ones done, unlock the cover, and let the beef to rest for a few minutes
Slice it and serve with the vegetable broth
3 ~ Vegan List
Sizzled Sprouts With Pistachios and Pomegranate
If you prefer going the vegan way, this is a perfect Christmas dinner diet to prepare your family. However, you can also prepare it as a side dish for the main menu.
Ingredients
250 grams Brussels sprouts cut in halves
3 tablespoons olive oil
100g pistachios, roughly chopped
1 cup of pomegranate seeds
Pomegranate molasses, to garnish
Method
Heat a large pot and add the oil to heat up as well
Then put the sprouts on the pan with the cut side facing upwards and allow them to cook for about 10 minutes
Toss them on the other sides and cook the same
Sprinkle the pistachios, stir and cook until well toasted
Remove from the heat, add the pomegranate seeds
Season with salt and drizzle the pomegranate molasses
Then serve
Conclusion
If you wonder what to prepare for your family and guests on Christmas 2020, these are great Christmas dinner list to consider. 
You can also prepare a variety of servings, especially if you expect many guests to make sure there is enough food on the table.
Read More
How To Make The Best Gingerbread Man